Inner Strength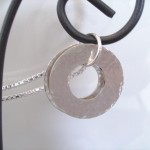 Introducing the Inner Strength necklace.  This 2010 Project Mother's Day necklace celebrates the empowering moment derived from a deeply rooted source that is called upon to endure a challenging journey,  an inner strength.   The sterling silver chain necklace holds a handcrafted trio of silver rings.  The inner ring is etched with the word Strength gently protected front and back by delicately hand-textured silver rounds.  This is the donation necklace that will be gifted to children across the country in the care of domestic abuse shelters as THEIR gift to Mom on Mother's Day.  Inner Strength, handcrafted by Solstice Designs, made possible by generous supporters.
You can help us celebrate these women and children.  Click the donate button to the right to help purchase materials for the necklaces.
Soon, the Inner Strength necklace will be available for pre-orders in the Shop section of this site.