12/1 Announcing the new Project Mother's Day
New this year, Project Mother's Day is seeking jewelry donations from artisans locally, nationally or internationally to contribute to the annual giving program.
For five years, Solstice Designs and contributors have raised funds so we could handcraft jewelry to donate to children in domestic violence shelters across the country, so they have a gift to give THEIR Mom on Mother's Day.  This ambitious commitment has been successful every year, but is limited by the amount of funds we are able to raise.  Now in our sixth year, we are ready to expand the Project and make it larger than ever.
As in years past, Solstice will create a new signature design to donate, which will also continue as  a sustaining fundraiser for the National Coalition Against Domestic Violence, and we are now encouraging other artisans to contribute their work to the Project.    This honors many artists' skills and their desire to give, while setting the stage to make this year's donation  the largest one yet with more hands to help.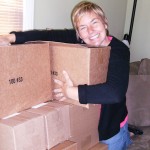 Solstice will be the collection station for the jewelry, utilizing the help of volunteers to inventory, package and prepare the donated pieces for shipment to the shelters.
We are able to accept donated pieces effective immediately, with the goal to start building the Project right away for 2011.  If you are a jewelry designer or know of someone who is, please share the news.
To help keep the gifts equitable for the children, we have a few parameters that we ask artisans to embrace:
* Please, provide necklaces or bracelets only.
* The pieces are shipped to shelters helping families of all denominations, so we ask that any religious references are avoided.
* Pieces are provided to all women in a selected shelter, whether or not they have children, please do not create a piece with Mom or Mother on it.
* Any quantity is graciously accepted.
Please call or email us if you are interested or have questions.  313-724-9400 or Give@ProjectMothersDay.com   This is an exciting new venture that we look forward to embarking on with all of you this year.   If you want to give, but are not a jewelry designer, cash donations are appreciated and welcome to help build the Project too.