About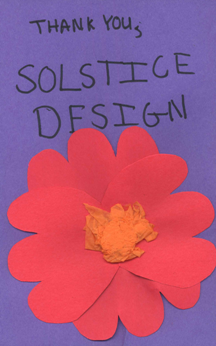 Project Mother's Day
Nurturing Domestic Abuse Survivors
This Project is a grass roots venture created by Solstice Designs partners, Sherry Duquet and Sandy Boulton.  In this Project, we provide handcrafted jewelry to give to children in the  care of domestic abuse shelters across the country.  The children in turn give the jewelry as THEIR gift to Mom on Mother's Day.   It is one small way we can help nourish their souls during this difficult time.
Project Mother's Day began 5 years ago, an inspiration derived from a late evening living room conversation.  It was in early March and Mother's Day was approaching.  Sherry was talking about how giving children are in their hearts and that it must be difficult for those in protective care of a domestic abuse shelter to have little or no ability to buy Mom a gift on Mother's Day.
So, the duo decided to make jewelry to give children to have as THEIR gift to Mom.  In that mission, they sought a local domestic abuse shelter to donate jewelry for each family in their care.  The number was 75 families.
Sherry and Sandy had just started their jewelry design business and there was no funding to pay their own bills, let alone to buy components for that many pieces.  They turned to friends, clients and the community for help.  Thus began Project Mother's Day.
2011 marks the sixth anniversary of Project Mother's Day and our hope is to grow it larger than ever.  Now, in addition to the pieces Solstice will create and donate this year, we are encouraging local, national and international jewelry designers to offer their work as part of the give.  Together, with many hands making jewelry, we can gift pieces to more shelters than any previous year.   Please contact us to participate.
Project Mother's Day continues to partner with the National Coalition Against Domestic Violence to reach shelters nationwide.
You can help. Contact us by email Give@ProjectMothersDay.com, via phone 313-724-9400, or follow us on Twitter (Proj Mother's Day) or on facebook.com/SolsticeDesignsjewelry.  More information is added to this site daily.
Here are some photos of a fundraiser event last year: